More college students than ever are struggling with hunger. SNAP is a resource that can help. Students 18-49 who attend higher education at least half-time may be eligible for SNAP by meeting income guidelines and additional criteria.
The COVID relief bill passed in December 2020 expanded SNAP eligibility for college students–allowing more students to qualify without meeting work requirements. Students can now qualify for SNAP if they:
Are eligible for work study - students do not need to have a work study position or award
Have an Estimated Family Contribution (EFC) of $0 on FAFSA
College students can still qualify for SNAP in many other ways, see below for more information.
Those who fall below Oregon's income guidelines may be eligible for SNAP. Monthly amounts go up $787 for each additional person
---
---
---
---
*Students attending class less than half time and those age 50+ do not need to meet additional student criteria, only income, to qualify for SNAP.
New Student Criteria
Students who meet income guidelines may qualify for SNAP if they meet this new criteria
Students need to let Oregon Department of Human Services (DHS) know what the student's intended job will be after completing their education. DHS wants to understand the link between a student's education and employment.
During their interview with a DHS worker, a student will need to share the reason they are going to school and how it is related to a job they want after they complete their undergraduate education (four-year program or less – this includes undergraduate, associates, certificate or short-term training programs).
Students should share a specific job they would like to do after they complete their education.
For example, if a student is studying social work, they should share they want to be a social worker.
Jobs that require an advanced degree, like lawyer or doctor, do not fit this criteria.
If a student meets this criteria, there are no work requirements for the student.
If a Student Does Not Meet the New Criteria, There Are Other Ways to Qualify
Though many more students in Oregon will qualify for SNAP under the new criteria, some may not (such as graduate students). For these students, there are still other ways to qualify.
Be awarded work study–a student does not need to have a position secured when they apply, but a student needs to intend to find a position in the coming school term.
Paid employee or self employed working an average of 20 hours a week
Unable to work due to physical or physiological difficulties
Responsible for the care of a child (age requirements apply)
Participating in aWorkforce Innovation and Opportunity Act (WIOA) approved program. Find these programs on the Eligible Training Provider List (ETPL)–list sorted by school
Receiving TANF
Receiving Unemployment Compensation
Other Factors Affecting Eligibility
If a student's meal plan pays for more than 51% of their meals per week than they are not eligible for SNAP. If the meal plan pays for less than half of a student's meals per week, receiving a meal plan will not affect a student's eligibility for SNAP. 

Students under the age of 22 who still live with their parents or guardians must apply with their parents. 

Financial aid received through the Veterans Administration or private scholarships count as income. 

Students on break from school must still meet the criteria for which they are eligible for SNAP (i.e. if you qualify by working 20 hours a week, you'd need to keep doing this over summer break). 
Note: federal financial aid including Pell grants, Perkins loans, Stafford loans and most work-study is not counted as income against student eligibility. Students may defer federal student loan payments while receiving SNAP benefits without incurring interest charges. 
APPLY FOR SNAP
Help Spread the Word about SNAP to Students
It is more critical than ever to share with Oregon students about SNAP since many students qualify but are not participating in the program. Use these resources to start SNAP outreach at your school to make sure students understand how to qualify and access food assistance.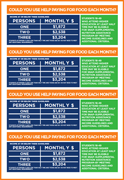 College SNAP Outreach and Assistance Toolkit
Find resources to help spread the word about SNAP at your college in our toolkit. The toolkit includes outreach planning and strategies,
an application assistance guide, outreach and communication materials, and more resources to help you ensure that students have access to SNAP.
Learn More