Nearly 50% of college students struggle with food and basic needs insecurities

. SNAP is a resource that can help. Students 18-49 who attend higher education at least half-time may be eligible for SNAP by meeting income guidelines and additional criteria.
Those who fall below Oregon's income guidelines may be eligible for SNAP. Monthly amounts go up $857 for each additional person
---
---
---
---
*Students attending class less than half time and those age 50+ do not need to meet additional student criteria, only income, to qualify for SNAP.
Student Criteria
Students (ages 18-49) enrolled more than half-time and who meet income guidelines may qualify for SNAP if they meet at least ONE of these criteria:
Can speak to how your college education (4-year program, or less) is related to working in a specific job after you complete school

Are participating in a state or federally-financed work study program during the regular school year.

Are a paid employee or self-employed working an average of 20 hours a week

Are unable to work due to physical or physiological difficulties

Are responsible for the care of a child (age requirements apply)

Are participating in a Workforce Innovation and Opportunity Act (WIOA) approved program.

https://www.wioainoregon.org/eligible-training-providers.html

Are receiving TANF

Are receiving Unemployment Compensation
Other Factors Affecting Eligibility
If a student's meal plan pays for more than 51% of their meals per week than they are not eligible for SNAP. If the meal plan pays for less than half of a student's meals per week, receiving a meal plan will not affect a student's eligibility for SNAP. 

Students under the age of 22 who still live with their parents or guardians must apply with their parents. 

Financial aid received through the Veterans Administration or private scholarships count as income. 

Students on break from school must still meet the criteria for which they are eligible for SNAP (i.e. if you qualify by working 20 hours a week, you'd need to keep doing this over summer break). 
APPLY FOR SNAP
Help Spread the Word about SNAP to Students
It is more critical than ever to share with Oregon students about SNAP since many students qualify but are not participating in the program. Use these resources to start SNAP outreach at your school to make sure students understand how to qualify and access food assistance.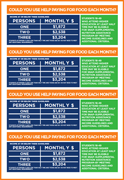 College SNAP Outreach and Assistance Toolkit
Find resources to help spread the word about SNAP at your college in our toolkit. The toolkit includes outreach planning and strategies,
an application assistance guide, outreach and communication materials, and more resources to help you ensure that students have access to SNAP.
Learn More